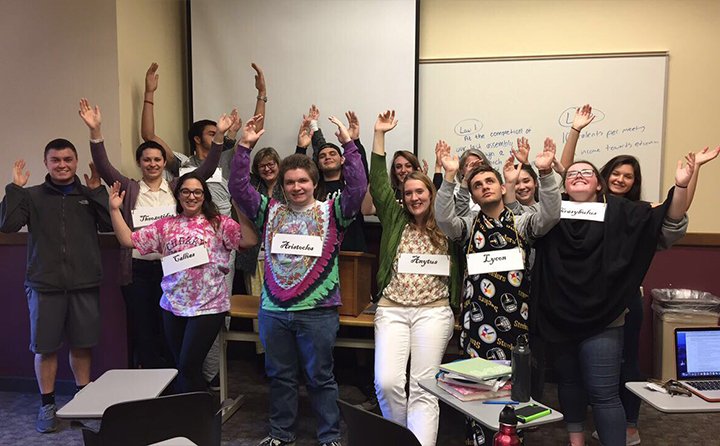 by Aaron Jackson, LHE Intern, Honors Program
On the south end of the Baldwin Wallace University campus, first-year honor students enter room 211 of Marting Hall, eager to begin their usual Monday-morning course. As students make their way to the second floor of Marting, they display pure excitement as they rush into the classroom and patiently wait for their instructor, Dr. Denise Kohn. Professor of English at BW for eleven years, Kohn specializes in eighteenth- and nineteenth-century literature. Minutes before class begins, Kohn arrives, wearing a white toga and instructing her group of first-years to travel back in time to Athens 403 B.C. Instantly, Stephen Tsambarlis, a music education major, leads the class in a prayer to the gods of Athens and ends by popping a balloon representing a pig sacrifice. This is not an English class, or even a traditional first-year experience (FYE) course; this is Athens, a city rebuilding its government after having been defeated in war.
Though the honors program encourages students to become competent in multiple areas of learning, we emphasize four specific areas: independent thinking, research, service and leadership. These specific learning outcomes are meant to develop traits like innovation, critical thinking and open-mindedness. Like many institutions of higher learning across the US, one of the graduation requirements for incoming students is to complete an FYE course. Each FYE course is designed to discuss various issues and topics, including how to succeed while at BW. The honors program offers specific honors FYE courses, such as Kohn's  course, Athens: Threshold of Democracy, which focuses on independent thinking. Recently, I had the opportunity to observe this honors FYE course that has become one of the popular choices with our first-year students.
Kohn has trained her class to forget the values of the modern society in which her students live, and, instead, she encourages her students to inhabit the specific Athenian characters they have been assigned. This FYE is a game – one that requires students to develop effective communication, critical-thinking and creative rhetoric while proposing laws for the city of Athens. In each class period they discuss issues that could either help or hurt their various factions in Athens. The challenge for each student is to remain disciplined within their character's morals and values, ignoring urges to incorporate their own contemporary perspectives.
In the class period I attended, the citizens of Athens were meeting to have an open discussion about which laws the government should enforce first. Thrasybulus, played by Danielle Bresnahan, an acting major, was successful at proposing and passing the "Peace Contract," which eliminated any chance of a civil war. During Thrasybulus' proposal, the students engaged in a discussion that welcomed different opinions, essentially creating a diverse community. As a student-lead discussion, Kohn was only there to mediate, giving the students more opportunities to develop critical thinking and respect for other perspectives. This honors FYE course is not a traditional college class; students are not required to raise their hands, and there are no right or wrong answers. Instead, the students work together to figure out what is best for the city of Athens.
The honors program offers classes like Kohn's in order to push our students towards becoming independent thinkers. These honors students have learned how independent thinking enhances their ability to communicate effectively as students, professionals and citizens. As the semester moves toward the final weeks, Kohn has noticed that her students have developed the ability to embody their characters in a ways that she had not seen in September. The characters are only the starting point for the students; new ideas will occur as students analyze and critique each other and as they ultimately rebuild the great city of Athens.
As class ended, the students slowly exited room 211 as if they did not want to leave. Still dressed in togas, they walked into the hallway, eagerly anticipating what they would encounter the next time they meet.