Student Experience - Morocco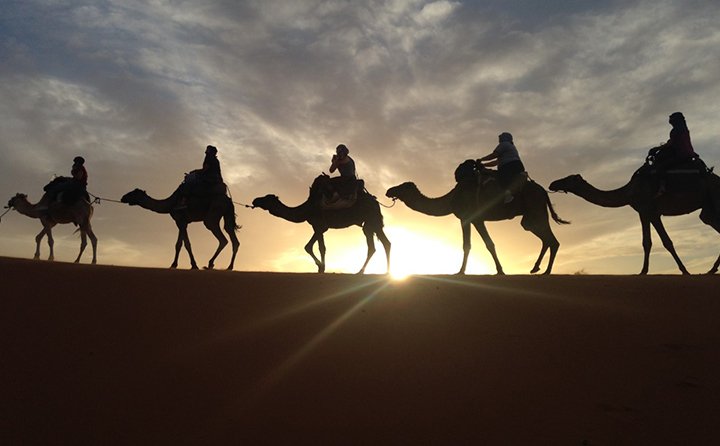 by Olivia Murphy '18
Salam ("Hello" in Arabic)! I am a junior majoring in international studies with a minor in Middle Eastern and North African studies. This fall I have been pursuing my interest in North African society by spending my semester abroad at Al Akhawayn University in Ifrane, Morocco.
The campus is stunning and nestled in the Mid-Atlas Mountains. The area is considered the "Switzerland of Morocco" and is a tourist area for skiing. The campus is gated and monitored by security guards, and the mosque is located at the center of campus. All classes are taught in English by professors from all over the world. There is a large population of international students each semester (around 100) as well as degree-seeking international students, so the campus is pretty diverse in the sense of student population.
Since arriving in August, I have immersed myself in a culture entirely different than that of my hometown, Johnstown, Pennsylvania or the campus of Baldwin Wallace University. The institution is based on the American-system of a university; however, as stated by both international students and Moroccan students, it is American-based academics run by the Moroccan system (office hours, food services and room cleaning are all based on Moroccan societal norms.)
One element of society I have learned about Morocco is the difference in specific gender roles compared to America. The extreme contrasts culturally, politically, religiously and economically have all pushed me to think more independently. Though at times I have felt uncomfortable or challenged in these situations, I have taught myself to look at them from multiple perspectives. These new world views happened quickly when I arrived to Al Akhawayn University when I learned that the dorms that I would live in were separated by gender. I realized that even friendly interaction with the opposite sex, a typical American cultural norm, was extremely limited here. 
Morocco is a patriarchal society, and one particular evening I found out what it truly means to be a woman living in that type of environment. I was traveling with a group of women, and we decided to visit a café. The café was located in Casablanca, one of the largest cities in Morocco, famously known for King Hassan II Mosque, the second biggest mosque in the world. Excited to be immersing myself in the Moroccan culture, a situation developed that I could have never imagined. Though there are no written laws, women in Morocco are dissuaded from sitting on the outside patios of the cafes. These specific spaces are reserved for groups of men. The café is a public place that serves coffee but still will not accommodate women. Not understanding this cultural norm, we sat at the patio to enjoy our coffee. While engaging in conversation with each other, we were asked to leave the café because we were behaving improper. What we soon found out was women who are in these areas usually approach men and are seen to have a different "agenda". During our time traveling in the city of Casablanca, I was also intimidated walking past groups of men. Verbal harassment is common for all women, especially foreign, to experience. I felt uncomfortable, frustrated and even a bit scared, but this opened my eyes to how ideas of male dominance are present in Morocco's society.
Though I consider my experience at the café one of my least favorite experiences from my trip, I was still able to learn why men acted this way. For example, I have learned about the importance of family in a patriarchal society and what that means for an individual's identity. Family is viewed as important in one's life in Morocco. Once I understood this, I was able to see why women are expected to behave in a certain way when it public, for example when they visit a café. This reflects valuing their family.
Finding my place within a country that operates so differently than the United States has been a challenge within itself. Learning to respect and attempt to understand other areas of the world is both difficult and immensely interesting. Being able to analyze these different situations and think independently has been my greatest ally since coming abroad. I have been able to open up to people, places, and ideas that I would never have been receptive to experiencing before. So, while being confronted with an unfamiliar temporary home, take it with a grain of sand (as I did in the Sahara Desert!) and know that your way of thinking makes all the difference!