Department of Chemistry
(440) 826-2312
OVERVIEW
Research opportunities that parallel those of graduate school students make BW's chemistry program ideal for career preparation and advanced studies.
The rigorous program blends theoretical study with practical application. You can work one-on-one with a faculty mentor and delve into complex research.
Round-the-clock access to bench space and equipment provides you with remarkable laboratory and research experience at the undergraduate level.
BW's technologically advanced classrooms and labs are equipped with specialized instruments and computer systems to provide engaged learning experiences.
Independent research studies, field experiences and internships offer hands-on application. Opportunities to work on real-world research projects enhance the visibility and credibility of research you may be asked to present at scholarly conferences or for publication.
The chemistry program is approved by the American Chemical Society (ACS). If you are interested in pursuing an intensive program of study, you can opt for the ACS certified major, which requires additional coursework beyond that needed for completion of a chemistry major. A chemistry-based engineering program is also available.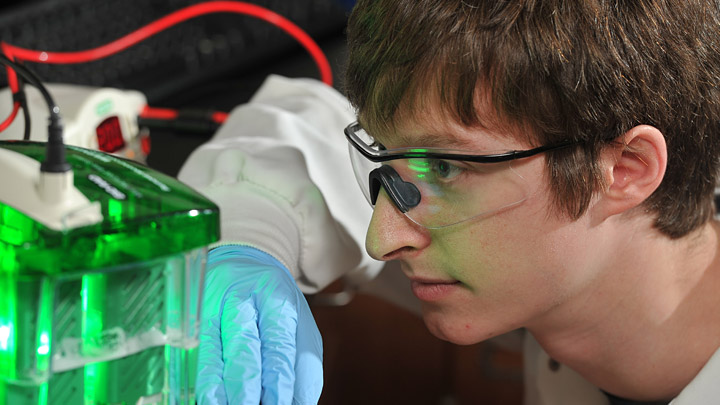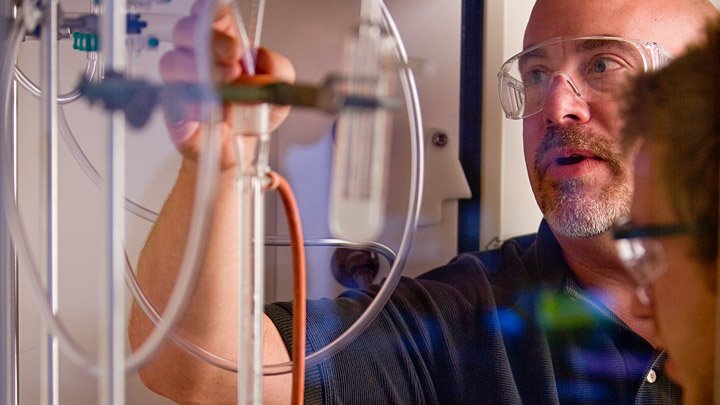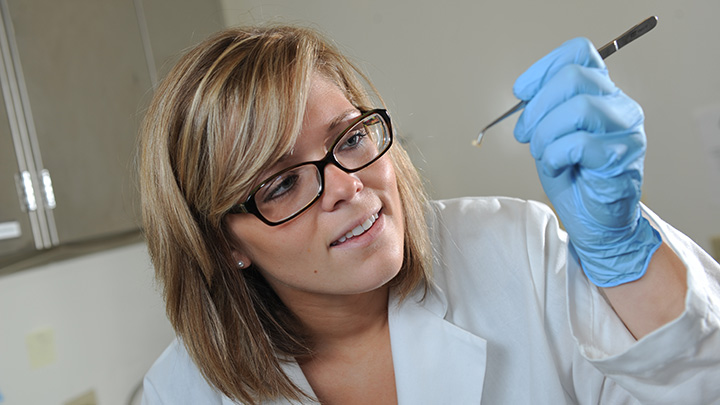 View hands-on learning experiences for BW's chemistry students.


CAREER OPPORTUNITIES
A bachelor's degree in chemistry can be a stepping stone to post-graduate education or can lead directly to a career in a variety of fields including:
Scientific Research and Development
Pharmaceutical Sales
Forensic Chemistry
Pharmacology
Science Teacher
Medical and Dental Health Care
Chemical Engineering
Health Care Technician
CURRICULUM
Chemistry is comprehensive and rigorous. It is offered as a major and minor.
BW offers a strong, broad-based foundation in the principles of chemistry as well as focused areas of study in biochemistry, instrumentation, physical chemistry, inorganic chemistry, organic chemistry and analytical chemistry.
You'll learn from faculty who hold doctorates in their subject matter and have decades of teaching experience.
Students interested in chemistry can choose from three programs of study:
Bachelor of Science degree, which prepares students for careers in industry and other fields, graduate school and professional schools of medicine, dentistry and engineering.
ACS certified degree follows a pattern of study based on the recommendations of the Committee on Professional Training of the American Chemical Society. A certified degree in chemistry is a valuable personal credential that serves as recognition for completing a rigorous academic chemistry curriculum in an ACS-approved department.
Chemistry-based engineering, a program that prepares BW students to earn an engineering degree through educational affiliations with the engineering schools of Case Western Reserve University and Columbia University. Upon satisfactory completion of the three-year coursework at BW and the last two years of the engineering program at the engineering school, a student receives the Bachelor of Arts degree from BW and the Bachelor of Science in their chosen field of engineering from the engineering school.
STUDENT EXPERIENCES
Small class sizes, individual attention and faculty mentoring are at the core of BW's chemistry program.
At BW, student success is a top priority. You'll be encouraged to present at conferences, work with a partner company for research, submit a paper for publication and apply for summer research positions.
Over the years, BW chemistry students have earned coveted national summer research positions with major medical centers, corporations and academic institutions.
Experiential learning bridges classroom study with real-world opportunities. You can enhance your studies through internships, co-curricular activities and other learning opportunities that include:
RESEARCH
Baldwin Wallace's chemistry department has laboratory facilities used by students and faculty in thesis work and collaborative research.
The quality of thesis and collaborative research conducted by BW students is outstanding. Students present research at professional conferences and have had their research published in journals.
BW's chemistry department offers impressive laboratories that provide easy and open access to equipment, projects and consultation with faculty. Spacious and safety conscious, the labs feature specialized instruments and dedicated space that enable students to work on complex research projects as a team or individually.
Juniors and seniors interested in intensive work in a particular subject can do a thesis study under the direct supervision of a faculty member. The caliber of this research often parallels that of graduate level students and makes an impressive addition to a vita or resume for employment or for graduate or professional school.
The chemistry department has a wide array of specialized instruments, including:
Nuclear magnetic resonance spectrometer
FT-IR spectrometer
Ultraviolet/visible spectrometer
HPLC
Atomic absorption
Gas chromatograph/mass spectrometer
INDEPENDENT STUDY
Independent study offers enrichment opportunities beyond the classroom for individualized and advanced study. Students work one-on-one with a faculty member.
INTERNSHIP OPPORTUNITIES
BW's proximately to Cleveland puts you within a 20-minute drive to outstanding opportunities.
Summer internships are available in local industries and research labs. National internships are also available.
In recent years, BW chemistry students have interned at Colorado State University, The University of Akron, Purdue University, Cleveland Clinic and PPG. Others have participated in the BW Summer Scholar's program and Gund Fellowship under the mentorship of BW professor Dr. Raymond Shively. Another student received a Chester's Scholar Fellowship at MetroHealth in Cleveland.
STUDENT CLUBS & ORGANIZATIONS
Personally and professionally rewarding, student organizations and activities foster career skills, leadership and teamwork. Opportunities include:
American Chemical Society
The Student Affiliates of the American Chemical Society helps chemistry majors explore opportunities in the field.
Pre-Medical Society
Delta Omega Chi, the Pre-Medical Society, sponsors medically-related volunteer activities, guest speakers, tours to institutions with professional programs and mentoring with pre-medical upperclassmen and the faculty advisor. This organization is ideal for students interested in health care professions such as physicians, physician assistants and dentists.
ALUMNI SUCCESS
At Baldwin Wallace, you'll experience personal and professional growth in a supportive community that challenges and inspires you to succeed. Recent BW chemistry majors are finding their success in industry, research, professional schools and graduate schools.
Industry
Sherwin-Williams
Eastman Kodak
Kimberley-Clark
Unilever Labs
Bridgestone-Firestone
PPG
Bonne Bell
Akzo-Nobel
Ben Venue
Hukill Chemical
OMG
Patterson Dental Labs
Poly-Carb
RESEARCH
Centers for Disease Control and Prevention
Veteran's Administration Hospital
Case Western Reserve University–genetics, infectious diseases and public health research
Cleveland Clinic Foundation–angiogenesis research
PROFESSIONAL SCHOOLS
Lake Erie College of Osteopathic Medicine Pharmacy Program
Johns Hopkins University School of Nursing
The Wright State University School of Medicine
Ohio University School of Osteopathic Medicine
University of Toledo Medical Center
Northeast Ohio Medical University College of Medicine
The Ohio State University School of Medicine
The Ohio State University School of Optometry
The Ohio State University School of Dentistry
The Ohio State University School of Pharmacy
Case Western Reserve University Anesthesiology Program
Palmer College of Chiropractic–Port Orange, Florida
University of Pittsburgh Pharmacology Program
GRADUATE SCHOOLS
University of Southern California
University of Notre Dame
Case Western Reserve University
University of Pittsburgh
Indiana University
The Ohio State University
University of California
University of Tennessee
University of Florida
University of North Carolina
University of South Carolina
Iowa State University
Stanford University
ALUMNI SPOTLIGHTS
With a strong track record of success, BW chemistry alumni are employed and attending graduate and professional schools across the U.S.
Jessica McClarren '13 began medical school at Ohio University Fall 2013.

Adam Assink '12 is working as a chemist at PPG Industries.

Megan Becker '12 is a quality assurance auditor specialist at Ben Venue.

Christopher Barton '12 joined the Peace Corps.

Lauren Cmarik '12 is a chemist at PPG Industries in their automotive coating facility.

Alyssa Costanzo '12 is attending graduate school for a master's degree in chemistry.

Christopher Cramer '12 is at Johns Hopkins University for its accelerated B.S.N. program. He will then apply to Georgetown University for its master's program for nurse anesthesia.

Krissy Lahman '12 is working at AkzoNobel in Strongsville. Her work involves the development of sustainable paper coatings.

Daniel Mauser '12 is working at NSL Analytical Services as a chemist I on the CS-444LS carbon sulfur determinator and being trained on other instruments.

Nataly Mualem '12 is attending Cleveland State University for a master's degree in biology. She will then apply to dental school.

Suzanna Prodan '12 is attending Cleveland State University's Ph.D. program in clinical bioanalytical chemistry.

Stephen Toth is working with the Centers for Disease Control and Prevention in Georgia. He will later decide between an M.D. or Ph.D. for future studies.

Julie Tuck '12 is attending the Lake Erie College of Osteopathic Medicine (LECOM) for its three-year Pharm.D. program. She will graduate in May 2015 with a Doctor of Pharmacy.

Michael Wojtalewicz '12 is attending Cleveland State University to complete an engineering degree.
Full-Time Faculty
Raymond Shively
Chair, Chemistry Department
Professor of Chemistry
Ph.D., Case Western Reserve University
Diana Barko
Assistant Professor of Chemistry
Ph.D., Case Western Reserve University
Sarah Binkley
Assistant Professor of Chemistry
Ph.D., University of Akron
Jim McCargar
Associate Dean, School of Natural Sciences, Mathematics and Computing
Professor of Chemistry
Ph.D., Kent State University
Lisa Ponton
Associate Professor of Chemistry
Ph.D., Iowa State University
Stephen Tytko
Associate Professor of Chemistry
Ph.D., Northwestern University
Adjunct Faculty
Mira Beshai
Lecturer in Chemistry
M.S., University of Windsor
David Binkley
Lecturer in Chemistry
M.S., University of Akron
Adam Kois
Lecturer in Chemistry
Ph.D., University of Alabama
Steve Kosztya
Lecturer in Chemistry
M.S., Cleveland State University
Staff
Jacquelin Yavornitzky
Administrative Specialist